Foreign Debt Summary (as of end 2018)
The accumulated external debt stock of the Government amounted to US$ 32.6 billion[1] at the end 2018, an increase of US$ 3.9 billion (or about 13.6 percent), compared to US$ 28.7 billion at the end of 2017. At the end 2018, the market based borrowings including ISBs and foreign currency term facility loans accounted for 42 percent of the outstanding external debt stock. By the end of April 2019, total outstanding external debt of the Government increased to US$ 32.8[1] billion.

---
[1]Non-residential holdings of Treasury Bills/Bonds and outstanding debt of State Owned Enterprises (SOEs) are not included.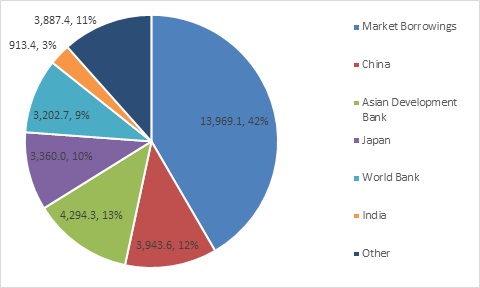 * Click on Image to View Large