Foreign Financing Disbursements
in 2021
Foreign Financing Disbursements 2021
The Government successfully utilized foreign funds in productive manner in the first eight months of 2021 in spite of the many distruptions including lockdown that has affected to the implementation of foreign financed projects. The total foreign financing disbursements increased by 16 percent to USD 1,601.7 million in the first eight months of 2021 compared to the same period of 2020, of which USD 1,592.3 million was disbursed as loans while USD 9.4 million was disbursed by way of grants.
The majority of the disbursements recorded in the first eight months of 2021 were made from loan agreements signed with multilateral agencies, with the World Bank acounting for almost 56 percent of such disbursements while the Asian Development Bank accounting to 40 percent. Bilateral ODA financing accounted for almost 16 percent of disbursements, with Japan accounting for 30 percent of the total bilateral disbursements followed by China with 25 percent. the USD 500 million and RMB 2,000 million of Foreign Currenct Term financing facility was obtained to support the budgetary activities.
The majority of the disbursements was in lieu of the projects implemented in the Road and Bridges sector which was amounted to almost 14 percent of the total disbursements, followed by the Health & Social Welfare sector at 9 percent, Water Supply & Sanitation sector at 7 percent, and Housing & Urban Development (3 percent).
Disbursements of Foreign Loans and Grants from January to December 2021
Development Partner

Disbursements (US$ million)*

Loan

Grant

Total

Bilateral

504.7

0.1

504.8

China

137.8

-

138.9

Japan

134.6

-

134.6

France

42.3

0.1

42.4

India

86.5

-

86.5

Netherlands

30.9

-

30.9

United Kingdom

7.2

-

7.5

Kuwait

14.9

-

14.9

Austria

11.7

-

11.7

Korea

10.6

-

10.6

Saudi Arabia

10

-

10.0

Spain

4.7

-

4.7

Germany

0.3

-

0.3

Hungary

13.2

-

13.2

Multilateral

1083.8

17.2

1101

World Bank

428.1

8.4

436.5

Asian Development Bank

610.2

4.6

614.8

United Nations Agencies

4.2

4.2

OPEC Fund

15.9

-

15.9

International Fund for Agriculture Development

7.5

-

7.5

Asian Infrastructure Investment Bank (AIIB)

21.8

-

21.8

Market Borrowing

809.1

-

809.1

China Development Bank

809.1

-

809.1

Total

2,397.7

17.3

2,415.1
Source: Department of External Resources
Note: For conversion of disbursements made in different currencies into US$ and Rupees, the exchange rates as at 31th December 2021 have been used
* Provisional
Sectorwise Disbursements - 2021 (September)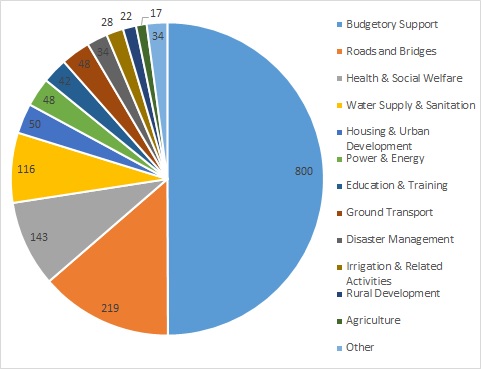 Source : Department of External Resources