You are here:  

Uncategorised
Test for CMS Date
This article creates to visible CMS date
The Agriculture Sector Modernization Project
The Agriculture Sector Modernization Project
To support the Government of Sri Lanka in the modernization of the agriculture sector, the World Bank through a Credit from the International Development Association (IDA) is supporting the Agriculture Sector Modernization Project (ASMP).
The development objective of the ASMP is to increase agriculture productivity, improve market access, and enhance value addition of smallholder farmers and agribusiness in the project areas.
The project focuses on the demonstration of agriculture diversification and technology improvement for production and post-harvest value addition, value-chain development for higher value-added production and better market linkages, and income generation from agriculture. The project also seeks to ensure that the agriculture modernization and diversification agenda is inclusive and poor farmers, including women, are enabled to benefit from investments into value addition, new skills and technology improvements, sustainable crop management, and new financing and marketing arrangements.
The project also aims to increasing private sector investments to the agriculture sector to strengthen the competitiveness of export oriented farmers and create the enabling conditions for smallholder famers in poverty stricken districts to move towards a more sustainable, resilient and productive agriculture.
The Project has three main components:
Component 1: Agriculture Value Chain Development, to promote commercial and export oriented agriculture.

This component is implemented by Ministry of Primary Industries (MOPI).
Component 2: Productivity Enhancement, Diversification and Demonstration to support smallholder farmers to produce competitive and marketable commodities, improve their ability to respond to market requirements and move towards an increase in commercialization.

It is implemented by Ministry of Agriculture (MOA).
Component 3: Project Management Component, supporting the above two components through support for human resource development, capacity building, monitoring and evaluation, communication and coordination of the overall project.
Under Component 1, the MOA envisages to implement the following sub-components:
a. Investment Preparation Support
b. Matching Grants to Farmer Producer Organizations and Agribusiness
c. Partial Credit guarantee
Under sub-component b. supporting a matching grants program to attract and leverage investments from Farmer Producer Organizations (FPO) and Agribusinesses (USD 88.20 million, IDA USD 44.10 million). Matching Grants (MG) would be provided under two windows.
I. MG of USD 5,000 up to USD 75,000
It would be provided for investments to be developed and implemented by FPO as parallel co-finance investment up to 50 percent of the total investment.
FPO should have registered under Sri Lanka's Company Act no. 7, 2007, a minimum cash contribution of 10 percent of the total investment to be deposited in an account opened in the name of the organization in a licensed bank at the time of application, appointment of a qualified accountant and availability of commercial financing up to 40 percent of the total investment are the eligibility criteria to participate in the MG programs. More favorable MG co-financing terms would be provided for women-led FPOs.
II. MG of USD 75,000 up to USD 500,000
It would be provided to agribusiness for agriculture and value chain investments. Established agribusinesses with a good track record or start-up agribusinesses with good development potential would be eligible to apply for and access the program.
For different investments the MG percent is vary and which is explained below,
Investment /USD

Matching Grant /USD

Matching Grant /USD

75000 - 150,000

50% of the total investment

75,000 – 150,000

150,000 – 500, 000

50% for the first 150,000, 35% of the tranche from 150,000 to US$ 500,000.

Up to 150,000

Up to 188,500

1, 000, 000

50% for the first 150,000, 35% of the tranche from 150,000 to US$ 500,000 & 20% for 500, 000 – 1, 000, 000

Up to 150,000

Up to 188,500

Up to 125,000

>1,000, 000

Maximum of 500, 000

500,000
Commitment Summary
This page is under construction
Commitments Summary
Committments 2017
To finance the public investments recognized in 2017- 2020 Medium Term Fiscal Framework in-lining with public debt management targets, the Government has entered into 49 foreign financing agreements under Official Development Assistance (ODA) in 2017 with foreign creditors and lending agencies amounted to US$ 2,522.1 million of Official Development Assistance (ODA). Of which, US$ 2,281.4 million was committed as loans through 26 loan agreements, and US$ 240.7 million was committed as the form of grants through 23 grant agreements. The highest amount of ODA made in 2017, was committed by China followed by Japan and World Bank respectively. They are to be utilized in next 3-4 years mainly in the sectors of infrastructure development such as Water Supply & Sanitation, Ground Transport, Road and Bridges and Irrigation sectors.
Total ODA Commitments Made in 2017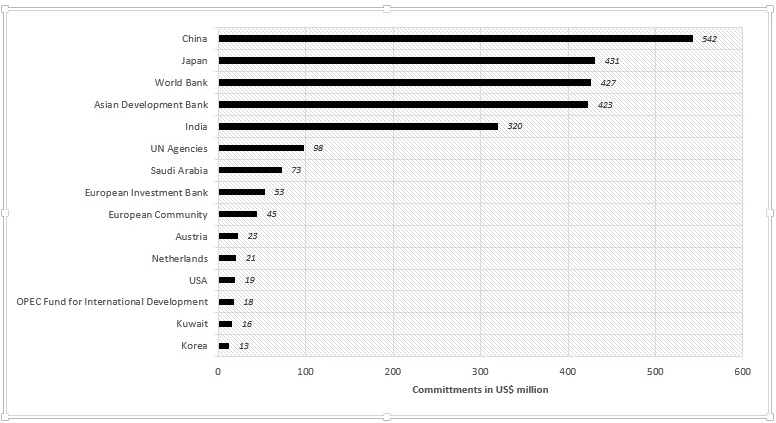 Source : Department of External Resources
Note: values converted into US$ as per the prevailing exchange rates of each agreement date
Water Supply and Sanitation sector received highest commitments in 2017, which accounted to US$ 701.7 million or 29 percent of the total ODA commitments. They are to be utilized mainly in following flagship projects; Japan funded Kalu Ganga Water Supply Expansion Project (I) (US$ 279.5 million), China funded Kandy North Pathadumbara Integrated Water Supply Project (US$ 248.8 million), and ADB fundedJaffna Kilinochchi Water Supply Project (US$ 120.0 million). Second highest commitments were received to finance the projects implemented in Ground-Transport sector, which includes Indian funded Doller Credit Line of the Development of Railway Sector (US$ 318 million), and World Bank funded Transport Connectivity and Asset Management Project (US$ 127.9 million). In addition, the ADB has committed US$ 300.0 million for Roads & Bridges sector in 2017.
Sector-wise ODA Commitments - 2017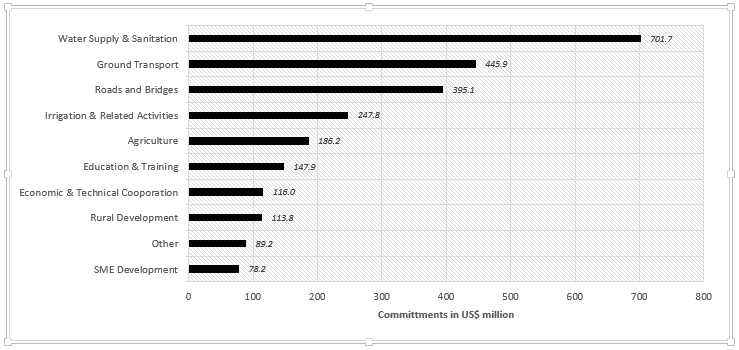 Source : Department of External Resources
Note : Other = Disaster Management, Humanitarian Assistance, Health and Social Welfare, Labor & Vocational Training, Ports & Shipping, Fisheries, Woman Affairs, Environment and Defense
Review of the Committments 2010-2017
With the Sri Lanka's graduation to Lower middle income country, composition has changed recently with higher amount of non-concessional loans and market borrowings, although the annual average of commitment has annually increased slightly.
Committment Trend 2010- 2017 (US$ million)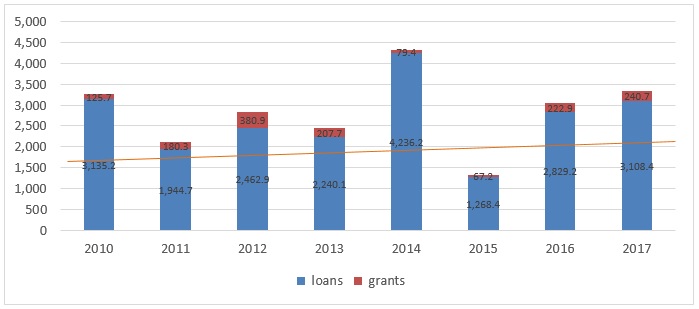 Source : Department of External Resources
Technical Assistance
TA No.
Title
Type
Sector
Amount (USD)
Main Activities
9085
Wind Power Generation Project
PPTA
Energy
2,000.00
The TA will support the Ceylon Electricity Board (CEB), the implementing agency, in preparing a feasibility study, preliminary engineering design, and conducting due diligence.
9278
Solar Rooftop Power Generation Project
PPTA
Energy
225.00

TA will support to:

conduct a study on technical and regulatory aspects, and economic and financial implications of the solar rooftop power generation initiative, including lessons learnt from other countries on implementing solar rooftop projects; and
support the executing agency and ADB in conducting due diligence on technical, regulatory, financial management, financial and economic analyses, and relevant safeguards (mainly environment since solar rooftop installations will not have any involuntary resettlement and indigenous peoples impacts), as well as assisting executing and implementing agencies of the ensuing project with contracting strategy.

8235
Human Capital Development Capacity and Implementation Support (Supplementary)
CDTA
Education
2,350.00

Outcome of the TA would be enhanced governement capacity to plan, coordinate, and implement results-oriented human capital development with greater synergies across subsectors. Outputs of the TA are as follows:

Improved policy and technical capactiy for planning human developemnt sector programs
Strengthened insitutional and fiduciary capacity for planning, coordnating, and implementing human develoment sector programs
Research on human development programs to guide better design.

9080
Cluster Development and Small and Medium-Sized Enterprise Finance Innovation
CDTA
Finance
2,000.00

TA supports the implementation of the proposed SME Line of Credit Project and has two components to support three of the projects's outputs.

Component 1: the TA supports the project's output 2 (innovative SME financing schemes development) by following activities.

Mange the auction system
Design a national credit guarantee shceme for SMEs.

Component 2 : the TA will suport the project's output 3 (Capacity of SMEs in targeted clusters for accessing financial services enhanced) and output 4 (international competitiveness of the information and communication technology and business process outsourcing cluster strengthened) of the project. under this component the following activities are included.

Strengthen the capacity of women entrepreneurs,
Structure cluster-based loans,
Strengthen international branding of ICT-BPO,
Increase women's participation in ICT-BPO.

9213
Developing the Capital Market
CDTA
Finance
750.00

the TA will support the implementation of key reform actions under the Capital Market Development Program by building capacity to carry out the reforms at the Securities and Exchange Commission (SEC), the Ministry of Labor (MOL), the Employees' Provident Fund (EPF), and the Insuarance Board of Sri Laka (IBSL). Following activities are envisaged under the TA.

Facilitation of the demutualization of the Colombo Stock Exchange,
Development of a multilayered, multiproduct financial certificiaton framework,
Enhancement of financial literacy and outreach for Unit Trusts.
Legal review of the Unit Trust Code and drafting of relatd legislation,
Legal review of the current securitization framework and drafting of the Securitization Act,
Establishment of derivatives market
Development of astratgey for establisihing a commodities exchange
Assessment of options for reforming the current system for retirement savings
Enhancement of risk managment capacity at the Employees Provident Fund for alternative Investments and foreign equities
Establisment of dispute resolution panel for insurance cases
Deepening of financial literacy regarding insurance products.

500.00
750.00
8271
Southern Highways Investment Program
PPTA
Transport
1,000.00

"Prepare an action plan to strengthen the institution and policy framework plan for expressway development and operation
Recommend appropriate construction technologies for Sri Lanka's road sector
Provide technical support for project preparation to review the feasibility study and preliminary design of Southern Expressway Extension and to improve the implementation readiness"

8473
Integrated Road Operation and Development Investment Program
PPTA
Transport
1,000.00

"Support due diligence required for the civil works of Integrated Road Investment Program
Develop a mechanism of performance tracking and information management"

9021
Colombo Suburban Railway Project
PPTA
Transport
1,450.00

"Preparation of a strategy for the improvement of the railway system in the Western Region, identify priority projects and prepare pre feasibility study for the Veyangoda - Colombo Fort - Panadura section.
study impact of loan distance transport study options for improvement of the Kelani Valley Line"

9161
National Port Master Plan
PATA
Transport
1,500.00

"Preparation of National Port Directions
Preparation of Colombo Port Development Plan
Preparation of Trincomalee Port Development Plan
Identification and prioritization of connectivity projects
Conduct technical review of the final design of the Port Access Elevated Highway Project"

8668
Rapid Assessment of Sea Water Desalination and Other Alternative Water Sources for Jaffna Water Supply
PPTA
Water and other urban infrastructure and services
225.00

Review water demand for Jaffna Peninsula
Assess quality of the seawater in Jaffna Peninsula
Review pre - feasibility of alternate water supply sources in Jaffna
Compare technical and financial viability of alternative water resources

8835
Institutional Development of National Water Supply and Drainage Board
CDTA
Water and other urban infrastructure and services
1,000.00
TA represents a major step within NWSDB towards the shift to control and reassignment of responsibilities from head office to the Regional Centers. And its expected to lead to significant improvement in performance and the enhancement of associated monitoring mechanisms.
7676
Capacity Development for Water Supply and Sanitation Service Delivery
CDTA
Water and other urban infrastructure and services
600.00
"Assessment of the rationale for the institutional and organizational set-up of the national government's public administration, and National Public Service System. institutional and organizational arrangements in the
national public administration submitted to OPR."
8798
Improving Project Readiness and Portfolio Management
CDTA
Water and other urban infrastructure and services
1,000.00
support the government to improve capacities of EA staff implementing ADB financed projects and enhance the ability of EAs to address the cross cutting issues in achieving on-time readiness and enhanced portfolio performance.
9049
Northern Province Sustainable Fisheries Development Project
PPTA
Agriculture, natural resources and rural development
600.00
The overall study consists of two Phases. Phase 1 will develop a coarse hydrodynamic model to simulate the dominant large scale wave, wind and tide driven circulation patterns and use those results to design and implement a bathymetric survey of the four study areas (Pesalai, Gurunagar, Point Pedro and Mullaitivu) which will feed into Phase 2. Phase 2 will perform detailed coastal sediment transport modelling for the four sites, and assess the prevailing alongshore sediment transport regime in the four study areas.