Commitments 2018.01.01-2018.12.31 Loans
Commitments 2018.01.01-2018.12.31 Grants
SOE Commitments 2018.01.01-2018.12.31
Committments 2017
To finance the public investments recognized in 2017- 2020 Medium Term Fiscal Framework in-lining with public debt management targets, the Government has entered into 49 foreign financing agreements under Official Development Assistance (ODA) in 2017 with foreign creditors and lending agencies amounted to US$ 2,522.1 million of Official Development Assistance (ODA). Of which, US$ 2,281.4 million was committed as loans through 26 loan agreements, and US$ 240.7 million was committed as the form of grants through 23 grant agreements. The highest amount of ODA made in 2017, was committed by China followed by Japan and World Bank respectively. They are to be utilized in next 3-4 years mainly in the sectors of infrastructure development such as Water Supply & Sanitation, Ground Transport, Road and Bridges and Irrigation sectors.
Total ODA Commitments Made in 2017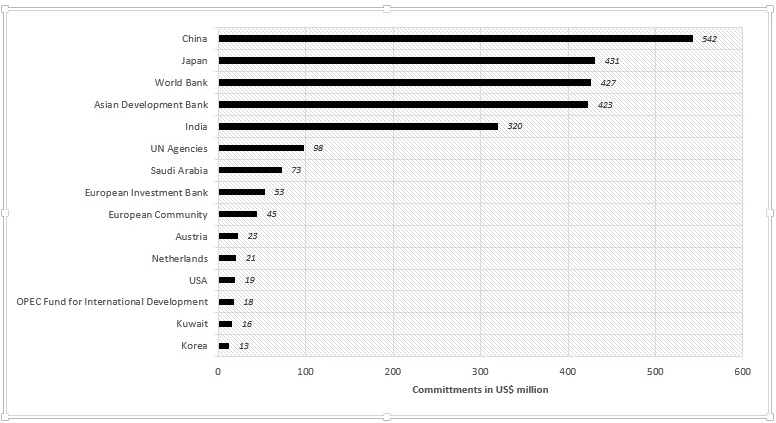 Source : Department of External Resources
Note: values converted into US$ as per the prevailing exchange rates of each agreement date
Water Supply and Sanitation sector received highest commitments in 2017, which accounted to US$ 701.7 million or 29 percent of the total ODA commitments. They are to be utilized mainly in following flagship projects; Japan funded Kalu Ganga Water Supply Expansion Project (I) (US$ 279.5 million), China funded Kandy North Pathadumbara Integrated Water Supply Project (US$ 248.8 million), and ADB fundedJaffna Kilinochchi Water Supply Project (US$ 120.0 million). Second highest commitments were received to finance the projects implemented in Ground-Transport sector, which includes Indian funded Doller Credit Line of the Development of Railway Sector (US$ 318 million), and World Bank funded Transport Connectivity and Asset Management Project (US$ 127.9 million). In addition, the ADB has committed US$ 300.0 million for Roads & Bridges sector in 2017.
Sector-wise ODA Commitments - 2017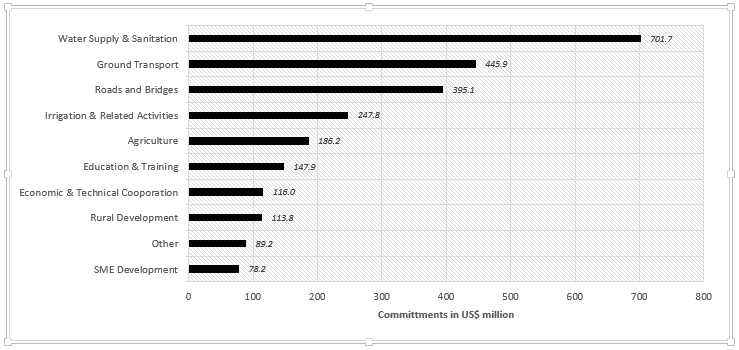 Source : Department of External Resources
Note : Other = Disaster Management, Humanitarian Assistance, Health and Social Welfare, Labor & Vocational Training, Ports & Shipping, Fisheries, Woman Affairs, Environment and Defense
Review of the Committments 2010-2017
With the Sri Lanka's graduation to Lower middle income country, composition has changed recently with higher amount of non-concessional loans and market borrowings, although the annual average of commitment has annually increased slightly.
Committment Trend 2010- 2017 (US$ million)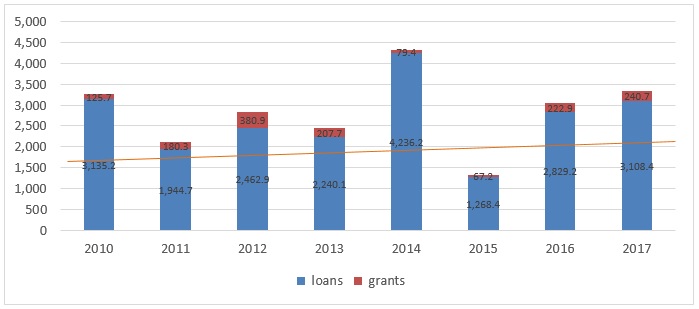 Source : Department of External Resources